Amish House Plans | Family-Friendly Layouts for Your Home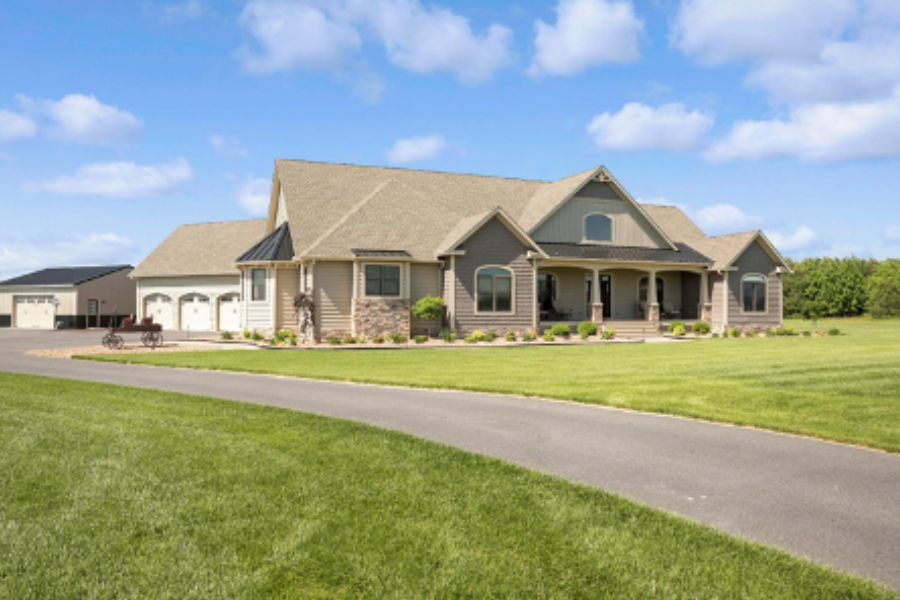 Family-Friendly House Plans for Your Custom Home
A family's size and make-up often dictate whether a house plan will work or not. For example, one style deemed suitable for a four-person nuclear family may not be a fit for an extended unit.
Another factor that plays a big part in the selection is the children's ages, as older kids tend to want privacy in their own space. Of course, essential and leisure rooms for adults, such as kitchens, offices, and mudrooms, are also pivotal when choosing a layout.
If you're looking for ideas for your custom home, look no further. Check out these family-friendly Amish house plans with distinct designs that cater to different groups.
Beach Cottage Plan With Basement
Parents with younger children will prefer a layout that positions all bedrooms closely. They may opt for the beach cottage plan, which puts the main suite on the second level, two other bedrooms with a shared bath, and a conveniently-placed laundry room. The primary bedroom also features two walk-in closets, giving each parent a separate space.
Lower levels of the house plan boast a lot of all-around features. On the first floor, the main entrance opens to a coat closet and some lockers and benches. A living space with a fireplace and a walk-in kitchen closet is also a fantastic addition to the main level.
Downstairs boasts a number of functional areas, such as the office and bunk room. Each space doesn't have to follow its designated purpose, as any room could also double as a gym, kid's craft lounge, or storage area.
Modern Farmhouse With Open Floor Plan
If you want a combination of traditional and contemporary styles, you may want to incorporate a modern farmhouse open floor layout into your home. The home plan utilizes interconnected spaces and features a mudroom, a pocket office, and a kitchen with an island and more room for food preparation. 
The first floor includes the great room, the lounge, and the main bedroom suite. On the second level, there are three more bedrooms, one of which has a connected private bath. The upstairs also has a media room and a loft area for playing games, watching movies, or hanging out.
Compared to other Amish house plans, the modern farmhouse works well for families with pre-teen or tween-aged children who prefer having their own space. The design also enhances your home's curb appeal, improving resale value.
Classical House Plan With Porch and Balcony
Moderate-sized houses are a good fit for the classical layout, a style that adds a luxurious charm to any home. A key selling point for this house plan is the wrap-around porch and balcony on the first and second levels, respectively. A basement foundation also allows for an extra room on the underground level should you need more space.
Some notable features of the first floor include a great room, a dining room, and a semi-detached garage. A kitchen with expansive counter space, an island, and a peninsula also makes cooking and prep more convenient.
An elevator is available for easier accessibility, making mobility easier for senior family members. This installation moves upstairs, a level that consists of a study, a loft, and three bedrooms—one of which is the primary suite. While each bedroom has access to the wrap-around balcony, the largest exclusively has two walk-in closets and a posh bath with a shower, a tub, and dual vanities.
Two-Story Farmhouse Plan With In-Law Suite
Families who regularly entertain overnight visits from in-laws or close friends will enjoy a plan with an extra room for guests. The two-story farmhouse design includes four bedrooms in the main building, one on the first floor and three on the second. Next to the home, above the detached garage, an in-law suite is available for your visitors' comfort.
An open floor plan for the ground level provides a sizable space for your family that connects the mudroom, the kitchen, and the living area. Next to the family room, the primary suite boasts impressive features such as a large walk-in closet, dual vanities, and a bath with separate tub and shower areas.
If you're the type who enjoys outdoor living, the two-story farmhouse also includes additions that'll interest you. The screened porch on the main level, which has a fireplace, makes for a relaxing nightcap, while the second-floor balcony is suitable for a daytime lounge.
Ask a Professional About Amish House Plans
To get the best layout for your project, ask a licensed custom home builder or architect for help. Call your local expert for quality advice and design services. Don't settle for a house plan that doesn't work for you. Get it right on the first go to avoid spending extra costs on renovations.