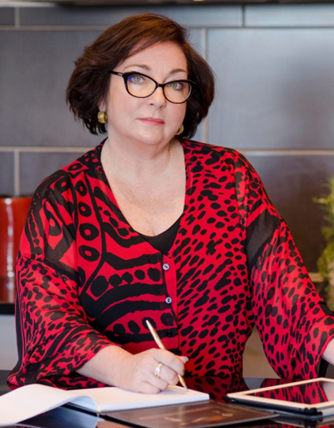 Kelli Brett, editor of Cuisine magazine, shares her thoughts about kitchen design build and why form and function are only part of the story.
What does your kitchen mean to you?
A lot. It's lovely although not as technically up to date as I'd like it to be. It has a beautiful view of the ocean. On Saturday mornings I love to sit at the bench and look out at the sea. Kitchens mean many different things to different people. When I was growing up, the kitchen was a lonely place. Mum was a restaurateur and caterer: I learnt a lot from her, but she was always at work. At one stage, we had a restaurant behind the house. I can remember my dinner being passed to me through the dining-room window and I'd sit and eat it on my own. So, as I got older, it become important to me to entertain and put the focus on the sharing of food. Cooking is also a stress reliever. I am slow – I potter around and I love the process. When I am home on the weekend, the most amazing part of my week is being able to cook for family – although I have a Spanish husband who never wants to eat until 10 at night!
Do the design lessons of restaurant kitchens translate to home?
Commercial kitchens tend not to be very pretty places. They are all stainless steel, and full of plastic containers with masking tape with dates written on them. They look sterile – not amazing. What I do think translates is the way chefs invest in long-term products that can withstand heavy duty usage. Now that consumers are more focussed on sustainability and reducing waste, they are more likely to invest in a premium brand that is built to last and offers more bang for your buck in that way. Another interesting point is that the home cook has so much more confidence now. Once upon a time, we wouldn't dare compare ourselves to a professional chef but now we aspire to cook like them. That's why brands have turned to the rock-star chefs to promote anything from fridges to paper towels.
Tell us about your dream kitchen
Lots of bench space is so important for preparing and plating up. Even the smallest kitchens when cleverly designed can incorporate that. Having said that, I'm not a tiny kitchen person – I like it to be a comfortable space. Kitchens with tiny sinks drive me insane. I mean, what do you do with a big saucepan or platter you can't fit in the dishwasher or don't want to break? I also love a walk-in pantry. I can't bear just a cupboard as I have too much stuff and don't want to clutter up the bench. It needs to be a clever arrangement with stackable storage (to be able to see them and reach them) not one behind another. I love Japanese design and was a black marble girl in the 90s but now I know how hard it is to keep smudge free and looking slick, I wouldn't go for it. I still favour natural materials though. Cheshire Architects has done so much for the hospitality scene in Auckland with their restaurant work in the Britomart precinct at places like Ortolana and Mr Morris [for Michael Meredith]. They have a signature look which is beautifully textured.
What's on your must-have list of gadgets or appliances?
If I could have a teppanyaki grill as a permanent fixture I would love it. I'd use that all the time. I love a barbecue but it's a drama as we cook over coals and you need to wait hours for them to heat up. If you're just cooking satay sticks for two, that's a bit of a palaver. Also, I once went into a kitchen in a farmhouse where the shelves, at the flick of switch, moved up and down. As an almost five-foot woman, that idea appeals to me immensely. Then I could have more useful things on 'high' shelves than just decorative vases and would never have to pull a ladder out.
What are your thoughts about the open-plan kitchen/dining set up?
You need to have something that integrates with the architect design and interiors. A black kitchen sitting in the middle of a beautiful white space wouldn't be right. The days of a kitchen that stands solely on its own are gone but ideally, I'd like one with sliding doors. That way I could close off the kitchen for some 'me' time. I'd sit there and read cookbooks and potter around. Also, when I entertain, I try to design menus where there's not a great deal going on in the kitchen so I can actually be with the guests. The other week I was interviewing Sam Gasson of Moeity in Dunedin. I was nattering away asking questions and he was answering as well as feeding a packed restaurant and keeping an eye on what the rest of the team was doing. That is such a skill! I'm a bit of a nervous cook – so I don't like people watching and I have to concentrate. Also, people tend to want to help. I just ask them politely to go away and drink their drinks – and not look at me!
With summer coming up, can you share a favourite recipe?
Absolutely. I find this simple courgette salad such a go-to favourite to take along to a barbecue.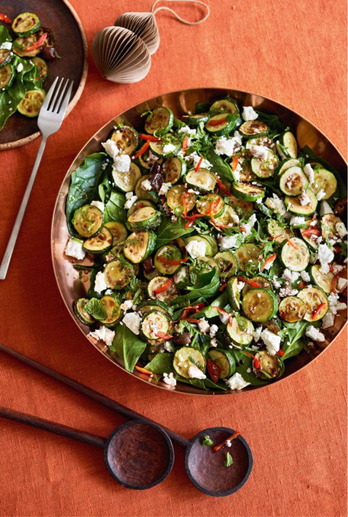 Image source:
https://drive.google.com/file/d/1SSs_u6xjn_Bu7rpu5tBP9AAYO6UhWgub/view?usp=sharing
https://drive.google.com/file/d/1wsGKzCPdFL5RMv91WEuqUYzx1I2MJ0Kn/view?usp=sharing