Time for You to Try Rainbow Colored Silver Ware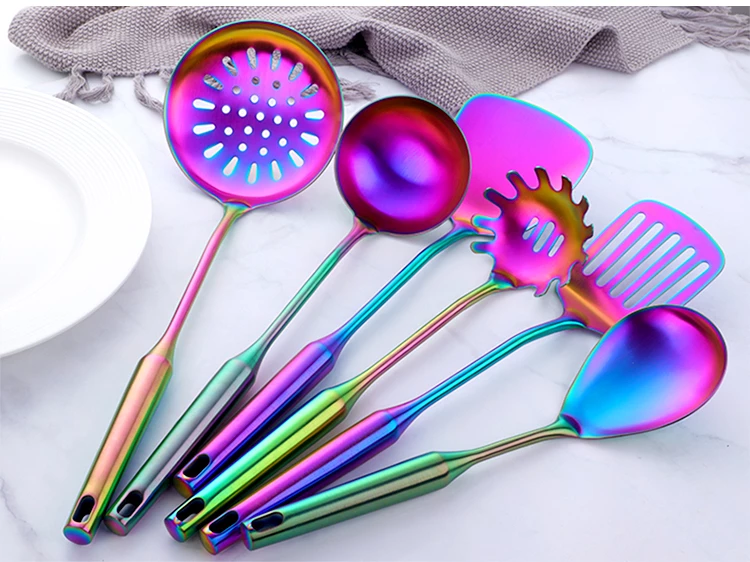 Silverware and kitchen utensils have always come in different colors and if you do some research on the internet you will find that this is true. These include copper, black, and various other colors.
Copper handles
The ancient tradition of Anatolian metalworks inspired copper-plated handles on a texture that is hammered. These handles are hollow and have an ergonomic shape fitting comfortably in a person's hand and like all copper; they develop a rich patina over time.
Iridescent rainbow
But if you searching for stunning silverware sets; you will find flatware many may not have seen before and that is iridescent rainbow silverware and kitchen utensils/accessories. The silver set is stainless steel construction with the rainbow finish. This website has RainbowWare™ which is a trademark brand name. Other websites might have silverware that is rainbow colored but might not be RainbowWare™.
Trending niche
Some say that this is becoming the trend, and when you do some research you will find rainbow color silverware settings are offered at many top brand name stores or websites. And they are priced from low to very expensive per set depending on the designer or the brand store or website you are shopping at.
Enhance the dining experience
Many believe that you can enhance your experience dining with this rainbow flatware. The more expensive sets such as those made in Italy are done with a special Vintage Process making the appearance warm, rustic and elegant. The product is oxidable, durable, dishwasher and food safe. This production process is not galvanic (done by chemicals) and doesn't produce any type of pollution.
Pieces in set
This silverware comes in 5-piece as well as 4-piece sets. The 5-piece sets include:
Table fork
Table knife
Dessert fork
Dessert spoon
Coffee spoon
This is certainly a nice way to add color to your holiday dinner table with this silverware and other rainbow-colored utensils.