Top 3 Outdoor Gas Griddles To Buy In 2021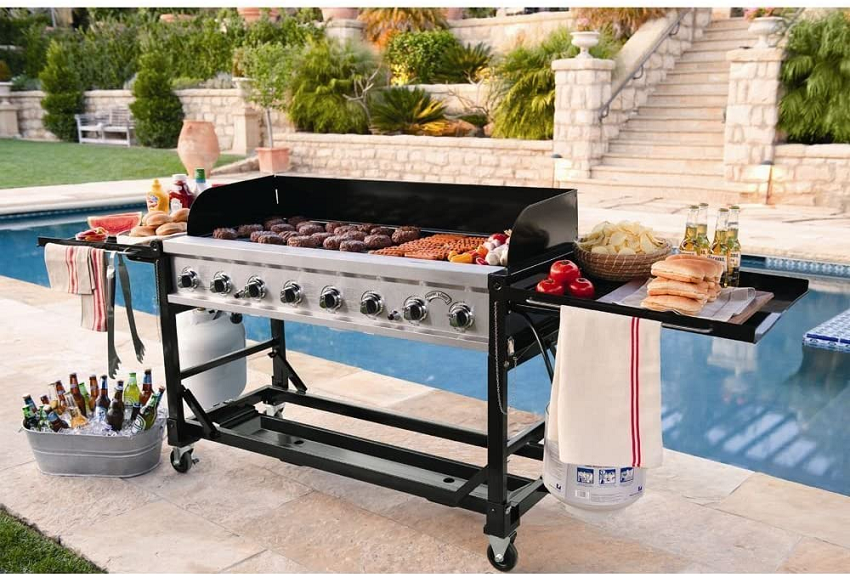 Outdoor gas griddles are a must-have cooking appliance for every kitchen. A major benefit of griddles is that they can cook a versatile range of foods- this is something that you don't get with your regular grill. Then, the gas-operated griddles always assure easier temperature control with just a slight twist of burner. Do you too have plans to get your own outdoor gas griddle this time? Well, here goes a useful blog post on the top outdoor gas griddles at hod9.com to help you find the most suitable one for your BBQ parties.
Blackstone 36" griddle
One of the largest griddles on this page, this Blackstone outdoor gas griddle is a restaurant-grade cooking appliance. If you have been looking for a big model for your commercial kitchen, this 36 inch griddle would be a fantastic pick for you. Boasting 4 burners, the griddle enables you to set separate cooking areas which enable users to cook diverse range of food items at one go.
The burners can be adjusted easily. All you would have to do here is turn and twist knobs to your preferred temperature zone to get the desired heat levels at different stages of cooking. It's to note here, this blackstone griddle comes with stainless steel burners that assure great durability for years.
The cooking surface is made from extra thick rolled steel. It not only ensures a lasting stay but also great heat retention and distribution. Put simply, this Blackstone model assures no risk of undercooked or burnt food.
Then, the griddle legs are equipped with caster wheels for easy movement. Two of these wheels have locks that help to station the griddle safely in one preferred position.
Features:
60,000 BTUs
720 sq. inch cooking surface
4 burners allow cooking in 4 various temperatures
Burners made of stainless steel to assure great durability
Cooking surface made of rolled steel which enables high distribution and retention of heat
Advantages:
Huge cooktop allows to cook large batches of food at one go
Advanced grease trap technology allows neater cooking
Easy assembly
Easy cleaning
Disadvantages:
Griddle top might rust if not used for long
Cuisinart Outdoor Gas Griddle
This Cuisinart model is one of the best griddles for small kitchens. The griddle features a broad cooking surface which is great to prepare meals for a family of 4. It comes with 2 burners which allow easy temperature adjustment for different kinds of food items that require varying temperature levels.
The cooking surface here is made of extra thick cold-rolled steel. On one hand, it assures solid durability, on another, it helps to maintain even temperature across the entire griddle surface. It eventually helps to prevent those unwanted hot and cold spots on your food. Put simply, the griddle ensures even cooking of your entire food item, whether it's a burger patty of sautéed veggies. To know more about the best flat grills griddle take a look at hod9.com. You will find details on Cuisinart griddle and other top outdoor gas griddle models as well.
The griddle connects to a sizeable 20 lbs propane tank- it's main source of power to cook all those sumptuous dishes you have been waiting for.
Features:
20,000 BTUs
2 burners
Cold-rolled super thick steel cooking surface
Easy ignition
Easy heat control
285 sq. inch cooking surface
Advantages:
Easy assembly
Easy portability
Allows to attain even temperature easily
Disadvantages:
Lid latch might wear down over extended use
Camp Chef Outdoor Gas Griddle
If you are looking for best flat top grills that can cater to large batches of meals, this Camp Chef model would be a great option for you. The unit comes with 4 burners (12,000 BTUs each) that allow to cook different types of meals at varying temperatures on one single cooking surface.
Then, the Camp Chef model comes with advanced ignition system which doesn't call for matches. It means you can start the griddle in seconds only. Besides, the griddle relieves from all those worries of stuck food.
Another good thing about the griddle is that the appliance is fitted with griddle levelers that help the unit to maintain a firm balance. Besides, the Camp Chef model comes with wheels for easy portability on various surfaces.
Features:
604 sq. inch cooking surface
4 burners
48,000 BTUs
Comes with wheels for easy portability
Advantages:
Non-stick cooktop
Easy cleanup
Disadvantages:
Grease might not drain out properly