Unlocking Kitchen Transformation: Custom Cabinets and Resurfacing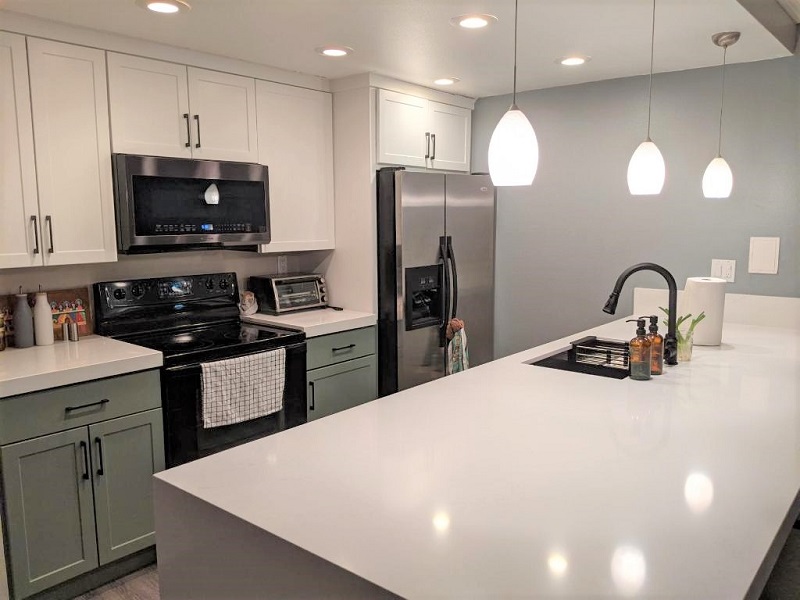 Introduction:
Your kitchen is more than just a place to prepare meals; it's a reflection of your style, functionality, and the heart of your home. Whether you're considering a complete overhaul or a subtle refresh, speciality vendors like Tinker Houz in San Diego is your go-to destination for crafting custom cabinet solutions and masterful resurfacing. In this blog post, we'll explore how the dynamic combination of custom cabinets and resurfacing can elevate your kitchen, bringing together the best of both worlds. The two different approaches allow us to cater to your budget and space for maximal visual impact at minimum cost.
Tailored Brilliance: Custom Cabinets by Tinker Houz
When it comes to transforming your kitchen into a personalized haven, custom cabinets are the way to go. Tinker Houz's commitment to quality craftsmanship and attention to detail ensures that each cabinet is a unique masterpiece tailored to your specific needs. All cabinets are manufactured in-house and through partners using material from top name brands such as FENNIX, CLEAF, SALT, LUX, SHINNOKI, STYLITE, and more. They even offer a virtual reality app to preview your dream kitchen beforehand.
So is custom cabinets the right approach for you? The advantages of considering custom cabinets for your kitchen include:
Tailored to Your Space: Custom cabinets are built to fit your kitchen's exact dimensions, making them an ideal solution for spaces with unconventional layouts.
Personalized Style and Design: Choose from a plethora of materials, finishes, and styles to match your taste and complement your home's overall design.
Optimized Storage Solutions: Tinker Houz's expert craftsmen can incorporate specialized storage solutions, ensuring that your cabinets not only look stunning but also enhance your daily life with efficient storage options.
Increased Home Value: Custom cabinets significantly boost your home's resale value, showcasing the attention to detail and unique features that potential buyers appreciate.
Environmental Sustainability: Tinker Houz is committed to eco-friendly practices, allowing you to choose sustainable materials for your custom cabinets and contribute to a greener planet.
If you feel like the commitment and cost is too high, we are excited to present an alternative. For those looking to refresh their kitchen without the cost and hassle of a full replacement, Tinker Houz's resurfacing expertise comes into play. This environmentally conscious approach preserves existing structures while providing a cost-effective and time-efficient makeover.
The benefits of resurfacing include:
Cost-Effective Makeover: Achieve a fresh look without the hefty price tag associated with full cabinet replacements.
Environmental Consciousness: Contribute to sustainability by minimizing waste associated with cabinet replacements.
Time-Efficient Solution: Enjoy a quick and efficient transformation with minimal disruption to your daily life.
Customization Options: Tinker Houz offers a variety of finishes, colors, and styles for resurfacing, ensuring a personalized touch to match your aesthetic preferences.
Preservation of Existing Layout: Keep the functional aspects of your kitchen intact while enhancing its visual appeal.
Quality Craftsmanship: Tinker Houz's skilled craftsmen execute precise and detailed resurfacing projects, ensuring durability and a long-lasting transformation.
Upgrading your kitchen should be done on your terms, your timeline, and in a manner that will make you smile every time you walk in. In the hands of Tinker Houz, your kitchen's transformation becomes a seamless blend of customization and renewal. Whether you opt for the tailored brilliance of custom cabinets or the renewing magic of resurfacing, Tinker Houz in San Diego is your trusted partner for creating a kitchen that reflects your style, values, and the heart of your home. Embrace the ultimate kitchen transformation with Tinker Houz – where innovation meets craftsmanship.
For more information, please click here https://tinkerhouzcabinets.com/home-improvement/why-to-buy-custom-cabinets-and-popular-custom-cabinet-types/