What Makes Quartz Countertops So Beautiful?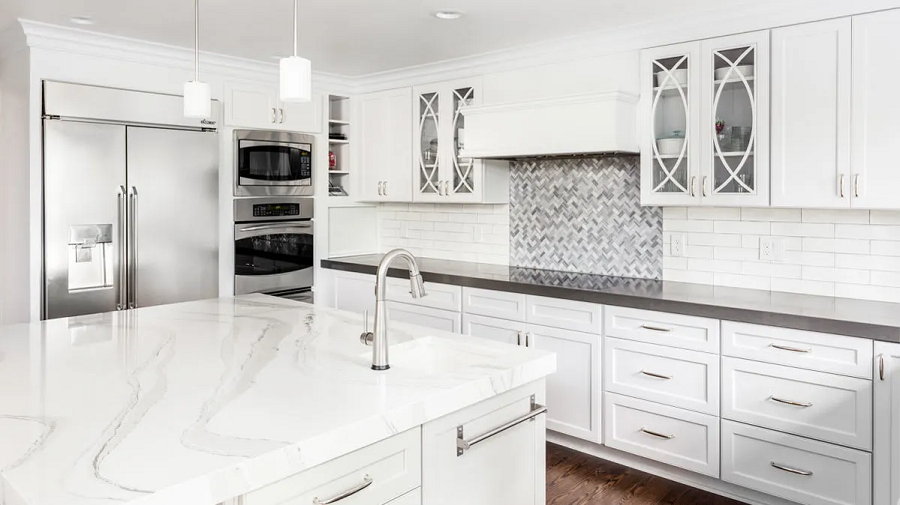 Quartz Countertops have been recently introduced in the market and it has become quite popular in a very short period, due to its number of good qualities. Also, it does not have many of the weaknesses that natural stones have.
Following are few reasons why you must consider upgrading to a farm sink by using quartz countertops.
1. Quartz is very attractive in appearance and it is a manufactured product. Therefore, its quality can be produced as per your specification.
2. You will find quartz in many different colors of your choice in order to match with the colors of the surroundings.  With natural stone, you do not have that kind of option.
3. Durability of quartz can be same or even better than other natural stone.
4. Like any other hard material surface for countertop, quartz is non-porous and hence it can resist staining much better as compared to granite, concrete and marble.
5. Quartz will not create any stain caused due to oil, juice, wine, coffee, tomato and others which are quite common in the kitchen.
6. You can find quartz countertops here where you will be always confident that you will get your quartz countertop perfectly clean, and that can be a great benefit for both bathroom and kitchen.
7. Being a non-porous surface, it is easy to clean and hence there will be no development of bacteria or viruses.
However, having said all these, there are a few reasons, why you should also be a little cautious while using quartz countertops.
1. One of the biggest concerns with quartz countertop is its price. If you compare its price per square foot then you will find that the cost difference between granite, marble or slate or any other stone is quite high.
2. Though the appearance of quartz countertops will be fairly contemporary but if the customer prefers for natural beauty like granite, slate or marble then quartz may not stand very well vis a vis its cost.
3. Finally, quartz may not be as resistant to temperature like granite, concrete, so you need to exercise caution with hot pots or pans used in kitchen.