With summer becoming a distant memory, winter is fast approaching! The mornings are colder, the nights are darker, and temperatures have dropped dramatically.
If you're in the process of or thinking about, updating your kitchen space you might not have considered about keeping the room warm. You might well have spent a lot of time pondering the type of bespoke cabinetry you want or worktops, splashback materials and the appliances you and your family will need to keep things running smoothly. You might have even started to think about lighting and wall colors but the one thing that can often make or break the usability of a kitchen is often not given nearly enough though.
There is a range of ways to heat up the kitchen space. From radiators to cast-iron ranges and underfloor heating, everyone has their preferences. Your choice will have a huge impact not just on how you use your kitchen when it's complete but how you design the room from its inception — designers of handmade kitchens, Harvey Jones, tell us more:
Remembering the basics
To have a trusty heating system in general, you need a reliable boiler. When you're planning your kitchen design, whether that be a modern design, traditional, or contemporary kitchen design, it might be worth factoring in a new boiler rather than repairing it if yours is more than 15 years old as they're not nearly as energy efficient as new models. Updating an old system to an A-rated condensing boiler could reward you with a 90% increase in efficiency. Also, replacing a boiler could free up room for more cupboards or worktops and you'll benefit from instant hot water if you opt for a condensing combi-boiler.
Types of heating
Heating under the floor
Having underfloor heating is often considered as a luxury. If you are designing your kitchen from the floor up, then underfloor heating gives comfortable radiant heat and can deliver great savings too.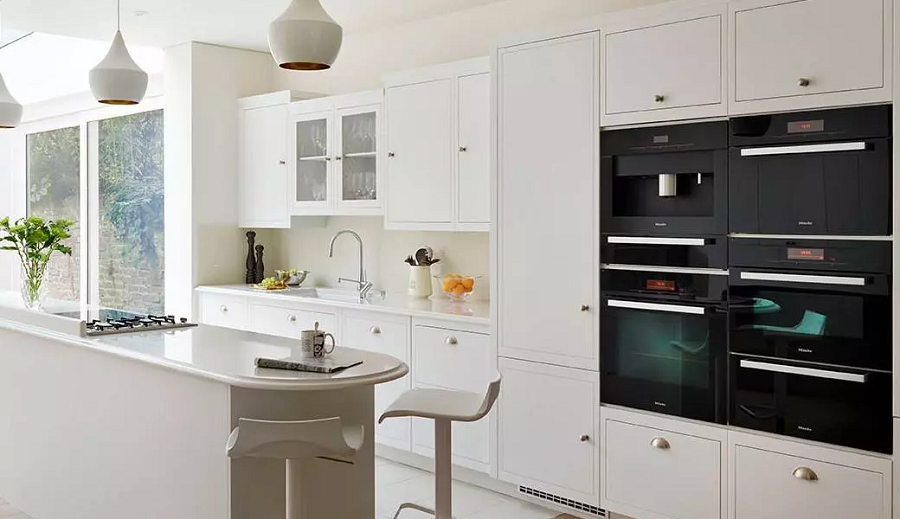 There are different routes you can take when it comes to heating. Depending on what type of heating you opt for, it can be used under most types of flooring, including stone, tile, wood, and vinyl. It's best to check your floor is a suitable match before you go ahead and invest, but a large kitchen with porcelain or ceramic tiles are almost always a perfect fit with underfloor heating.
One option to think about is electric flooring. It is easier to fit, with it being a network of wire elements on a mesh that is placed below the flooring or wet systems, which use water pipes below the floor. An electric system is easier to lay and can be retrofitted fairly easily if you're laying a new floor, just check with your builder first. The second option is wet systems, which require more work but are better suited to renovations, such as new extensions or completely new builds.
Underfloor heating can be installed without needing to give up valuable space, as you would when installing radiators for example. Instead, you can make use of that space for additional bespoke storage options, wine coolers, American fridges or simply some more cupboards. It is also vital to have your kitchen design finalized before the pipes or mats are laid for the flooring, as it would be an absolute waste to heat built-in cupboards, or under appliances. A floor plan from your expert designer will help any heating engineer advise not only the best pattern to lay the floor in but also where to place the controls on the walls. Using a timed thermostat means that you can set the heating on to warm the room just enough so it's a little easier to step into your kitchen on a frosty winter morning.
Installing radiators
Most homes around the UK have radiators fitted in their home — operated by a central heating system. Usually already in place, updating them from dated 1970s flat-panel models to one of the many stunning styles on offer from specialists such as Bisque or Aestus can completely change the look of a room. For contemporary schemes look at ladder-style vertical radiators in sleek white and steel finishes and for classic kitchens pick something a little more period in its look like Bisque's Classic range, which echoes Edwardian shapes.
To know what type and size of radiators you need, you might need to do some calculations. There are plenty of online calculators to help you do this – just pop in the room's dimensions, the number of windows and the calculator will give you the BTUs or wattage required.
Cast-iron ranges
If you have a traditional kitchen, you might consider an 'always-on' Aga. They will provide a radiant heat to warm your kitchen on a winter's morning but it can't run a central heating system. If you want your heat-store range to do that, then opt for models from Stanley or Rayburn, which can often run up to 20 radiators.
Taking it mobile
As with most things now, there is an app available to control your heating. Investing in an app-controlled heating system, such as Hive or Nest, means you can switch your heating on and off with the tap of a button on your phone.