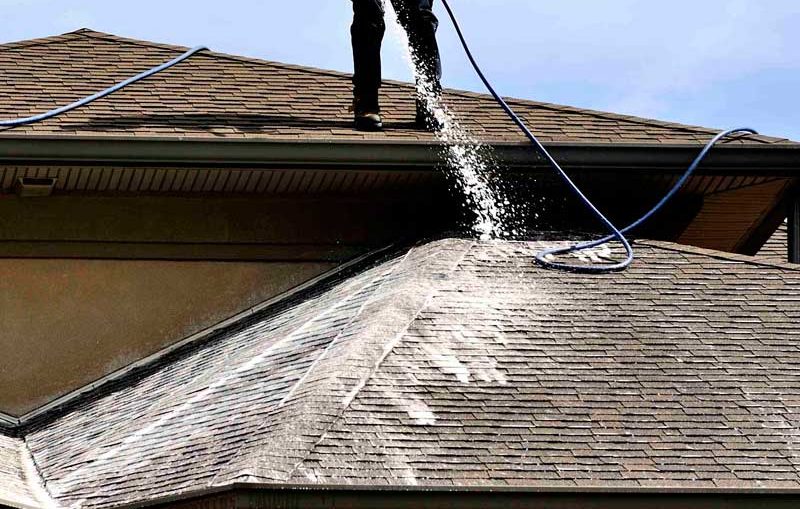 While a lot of people know about power and pressure washing, soft washing is quite obscure to some people. Exterior cleaning service companies in the US have opined that only about 27% of house owners know and use the soft washing technique to clean their roofs and building exteriors.
Soft washing is a cleaning technique that utilizes low pressure and specific solutions to effectively remove bacteria, mildew, algae and other stains from roof and externals of buildings. It uses very low pressure – about 40-500psi, to apply the cleaning solution onto the surface of the exteriors of the house. The cleaning solution is usually made of bleach, water and a biodegradable surfactant (detergents).
WHY SOFT WASHING IS PREFERRED
Soft washing is the most preferred method for cleaning roof shingles and other exterior parts of a house by some people because it Is more gentle and doesn't do damage due to the low pressure that is exerted on the surfaces by the washing solution. This is its most important feature because the use of high-pressure water over time on roofs, tend to peel the paint and wear them out easily and eventually cause damage and leaks.
Also, this method saves you water and money as you use less water to do the cleaning and it also costs less too. House cleaning services charge less when using the soft washing technique than when using pressure or power washing.
Furthermore, not all forms of algae and bacteria can be removed merely by using high pressured water to blast them. Microscopic microbes which can't be seen and hence cannot be washed off or killed with just high-pressured water are examples. So to kill such microbes, the bleach and the soap base used in the soft washing solution is your best bet to get rid of this germs.
Soft washing also provides longer lasting results when used to clean. This is because the disinfectant nature of the bleach makes sure that the bacteria and algae do not return anytime soon.
SOFT WASHING COMPARED WITH POWER WASHING WHICH IS BETTER
Before comparing them, let's get an idea of what pressure washing is. As opposed to soft washing power washing is the use of high pressured water to get off dirt and bacteria from surfaces. This cleaning mechanism solely depends on the pressure of the water from the nozzle for cleaning. When hot water is used, it is called power washing. Now let's go into the comparison.
Soft washing can be used on any kind of surface from bricks down to vinyl including roofing sheets made out of metal (zinc). On the other hand, pressure washing is more suitable for tougher surfaces like brick and concrete curbs and sidewalks. This doesn't mean pressure washing cannot be used for roofs, far from it; but you should be careful when using it because of its harsh effect on roof shingles.
Soft wash is good for getting rid of both minute microbial organisms and stains because of its disinfectant nature while pressure washing is more suited for visible stains and organisms.
When looking for a faster method for cleaning, pressure washing is you go to option. Soft washing, on the other hand, is a slower but more thorough technique to wash off those pesky bacteria and algae.
According to realtors, a soft washed house is most likely to increase in value by 5% – 10%. Get that house in perfect shape, use soft washing to give it a thorough cleaning and you would be glad you did so.