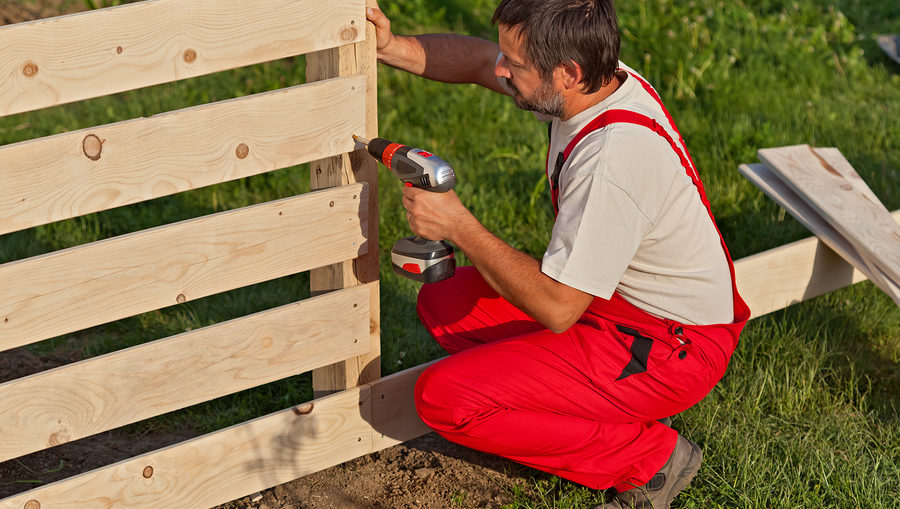 Repairing a damaged fence is easier and more cost effective than replacing the structure in most cases. Prepare to make fence repairs if the fixture is installed in your lawn. At some point in its lifetime, the damage is going to occur no matter how hard you try to prevent this. No matter the type of damage the fence sustains or the type offense in the yard, rest assured experts offer repair service that fixes the damage quickly so the fence continues to protect and beautify your property for many years ahead. Don't opt to replace the fence before you learn more about repairs and its many advantages.
Repair a Wood Fence
Wood fences are popular because they bring sophistication and privacy to the property. Many wood fence styles are available, each offering their own pros and cons. You'll need to keep a close eye on the wood fence to keep it looking great for long ahead, however, since maintaining the fixture is an important part of ownership. With a bit of TLC, you can maintain your fence's integrity for a long time to come.
Regularly inspect your wood fence for damage. The wood fence is susceptible to numerous types of damages due to pests, water, and the many weather elements that it faces throughout the year. Discoloration from the sun, warping, and splintering is a few common issues with the wood fence that oftentimes need to be repaired. Use wood filler to patch small holes and cracks, but call a professional for more serious damage.
Repair a Vinyl Fence
Vinyl fences are considerably cheaper than wood fences and usually, require considerably less repair and maintenance. They're installed in the lawns at many homes and offer great benefits. However, damage can and will occur to the vinyl fence when weather or other issues cause trouble. Cracking is the most common type of damage vinyl fence owners experience. It is susceptible to damage any time of the year, particularly when it's cold and snow or large debris hits the fence. When you spot cracks, replace the panel at once to prevent further damage. Pressure wash the fence regularly to further reduce damage.
Choose a Qualified Fence Professional
When it's time to schedule a repair, make sure that you're well-qualified experts to make your repair. Only then can you rest assured you are paying for valuable services that protect your fence and your home. Look for a fence expert that brings experience to the job, as well as a good reputation. A good reputation is a signal that you've found a good company who will surpass expectations. License and insurance are important and make sure that you choose a fence repair company that guarantees their work.
Should You Replace Your Fence Instead?
Repair works for many types of fencing damage, but sometimes you should opt to replace the fence rather than waste time and money on a repair. If more than 20% of the panels need to be replaced, make sure you replace the entire fence, since it is more cost-effective. If repair costs are equal to the costs of a new fence, the obvious choice is a replacement. Consider the age of the fence as well. Wood fences have life spans of about 20 years, while a metal or vinyl fence can last 25+ years. If your fence is near or past this age, replacing it is probably a good idea.