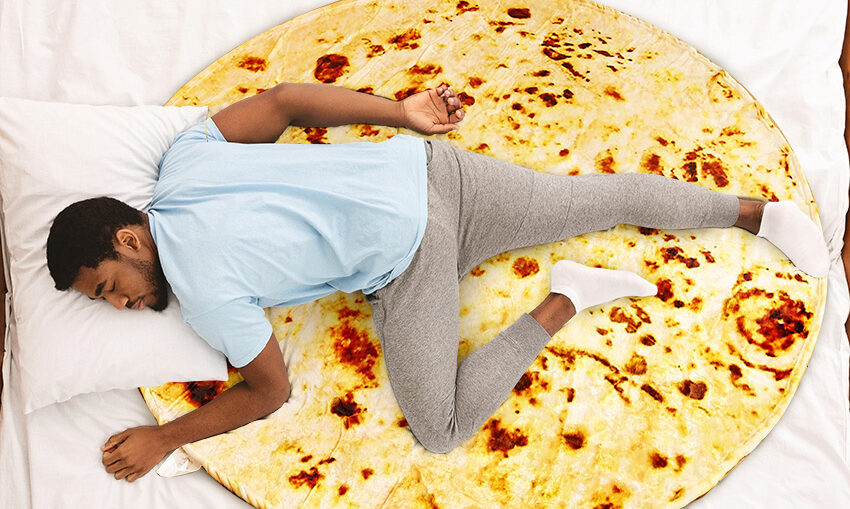 It seems like the gifting season is here and one of the most resourceful and promising gifts is surely a comforter or a blanket. By now you must have heard about the Foodie Blanket which looks fun as well as a great bedding option for food lovers.
If there is someone who thinks of food all the time or you are a foodie yourself then these stylish microfiber blankets need to enter your bedroom soon. They fit and cover you up perfectly when the cold winter months are here to stay. These do make an amazing gifting option and one that will bring a smile to anyone you gift to. These work out wonderfully for all kinds of occasions. Moreover, who does not like to be wrapped over with a Burrito & Sunny Side Up Egg Blanket? Egg lovers are going to drool over these warm and eco-friendly blankets. It will make anyone smile the moment they set their eyes on these warm and cozy wraps. One could imagine laying down and wrapping some delish food around them, just that it's a blanket this time!
These blankets are one of the best gifts for your loved ones. They work well for both indoor as well as outdoor activities. It ensures all times that you are kept warm and comfortable at all times. If you wish to enjoy picnic time or simply want to wrap yourself around with some 100% micro flannel, pleasant fabric, these will do the best job for you. You could also use it as a decoration piece and we promise that you won't regret it for a second. Make it your blanket or a décor item; it pleasantly does both the work effortlessly. Enjoy some warm and delightful time rolled around it with your loved ones. Have your pet join you some time too!
The best part about these blankets unlike others is that they do not fade and are even anti-wrinkle. The size is big enough to fit an adult or even a small kid. It's time to get into the taco or burrito mode. They look real yet are incredibly soft. You sure will not want to leave it once you get wrapped around it!