4 Brilliant Interior Design Ideas This 2022 For Your HDB Flat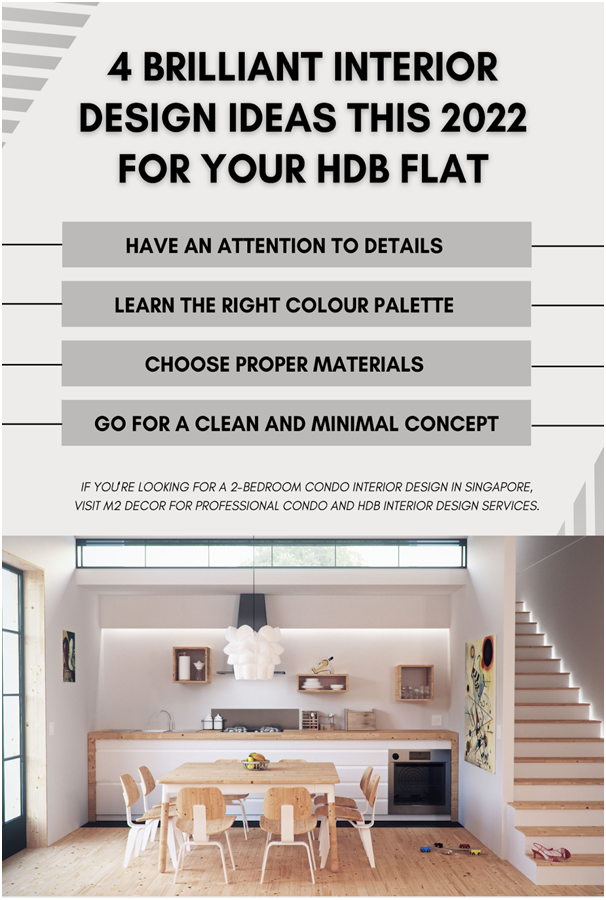 Are you planning to revamp your space with HDB interior design ideas in Singapore? HDB flats are one of the most common forms of residential accommodation. While HDB flats don't often provide the best space for a grandeur design, there are always ideas and trends that will help you elevate your HDB home!
Space is often a concern. It can be among the challenges to maximise the appeal of your home, function and aesthetic-wise. Without further ado, here are a few must-know HDB interior design ideas for 2022 that will help take your HDB flat to another level!
Have attention to details
If you're going for an HDB or condo interior design in Singapore, it's always vital that you pay attention to the details within. They can help make a significant difference in the look of your home. From lighting to the arrangement of furniture and surfaces and colours, you need to make decisions in these aspects.
Learn the right colour palette
A simple colour change can make a day-and-night difference in your HDB or condo interior without replacing your furniture and lighting. In some cases, lighter colours can help create spaciousness and a cleaner look. On the other hand, darker tones can help create more intimacy in spaces. Changing colour will do if you want to refresh your home.
Choose proper materials
In Singapore HDB design, practical choices matter for homeowners and designers. Materials help create finishes, which helps make your interior design more refined. It also covers practicality since wrong materials can break easily, leading to more repair costs. Hence the ideal materials bring more sturdiness to your furniture items and prevent costly repairs throughout the items' lifespan.
Go for a clean and minimal concept
Incorporating open, clean and minimal design concepts is a popular trend in interior design. The simplicity makes it more accessible and budget-friendly since it emphasises functionality and comfort over grandeur which may compromise these two aspects.
If you're looking for a 2-bedroom condo interior design in Singapore, visit M2 Decor for professional condo and HDB interior design services.