Luxurious Villa in Lucknow – Atmos premium Sky Villa and Earth Villa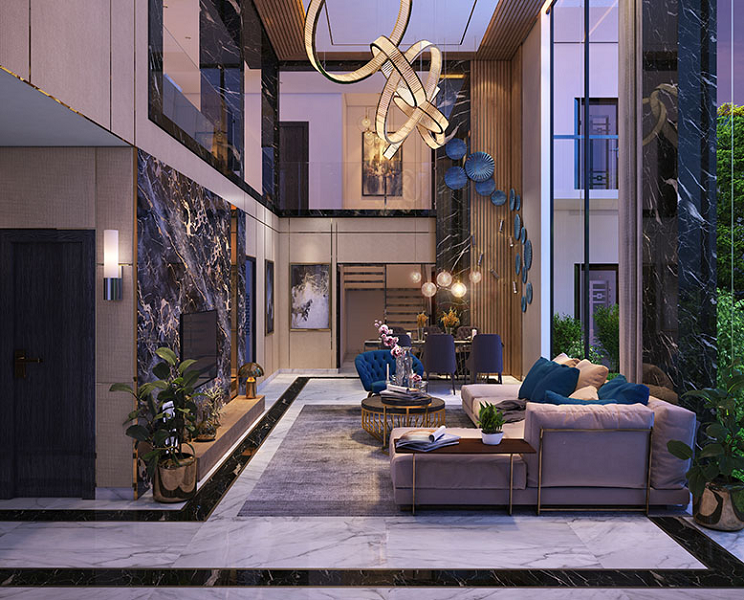 You would have surely heard about the Luxury villas in Lucknow. These villas are nothing less than a five-star luxury. the tower-in-villa concept is something that will elevate the lifestyle of any discerning individual. Make your dream come true of living in pure luxury amidst picturesque scenery.
Buying an apartment for ownership has its own benefits. You have the freedom to transform your house as you wish, in order to enjoy a superior lifestyle. Many people today want to upgrade their way of living. They want to move to spacious homes. According to a new study, the main reason why people move to a new house is that they are not satisfied with their old house anymore. They long for a more comfortable and modern home. They work hard and save enough money to buy their own house and want to live in luxury for the rest of their lives.
You will find many beautiful villas in Lucknow. Lucknow is the capital city of Uttar Pradesh, it is a multicultural city. It has extraordinary monuments of ancient and oriental architecture. It is absolutely one of the best cities to live in India. It is quickly expanding in terms of infrastructure, livelihood, and safety for women and in other areas. There are many lavishly designed luxurious apartments and beautiful villas in Lucknow. You will experience the upgrade in your lifestyle with these world-class villas located in Lucknow.
The One Oak Atmos Lucknow Premium Sky villa and Earth Villa Residences.
 It is a residential area developed by One Oak Atmos. It is located in Gomti Nagar Extension, Lucknow. It has many important places surrounding it. The International cricket stadium, highly reputed schools and hospitals, Lulu Mall, airport, IT city to name a few. The location plays a vital role in making this project a success and popular. The accommodations at Atmos Lucknow are available in Villas,3 BHK and 4 BHK deluxe apartments which cost approximately Rs 1.05 crores and above. These glamorous villas will add to your lifestyle.
The unit plan consists of 3 BHK Supreme apartments, 3 BHK Deluxe apartments, and the luxurious Earth villa and Sky Villa. All these residences are designed in such a way that it can satisfy your desire to live in your DREAM HOUSE. The features include a multi-purpose room and also a servant quarter as per the plan. It has water cascade, tennis courts, shops, banquet hall, home theater, guest suites, etc to name a few. You can register if you wish to buy this Terrace collection 3 BHK Supreme/ Deluxe apartment since it is seeing more and more popularity now.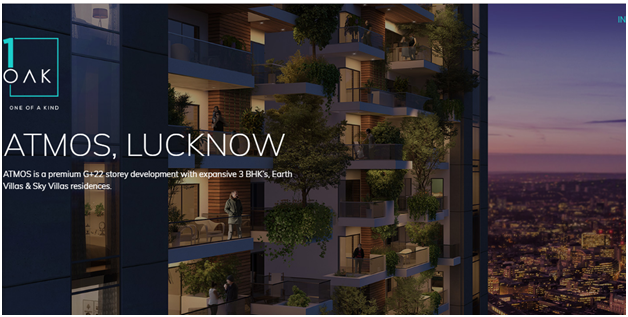 Sky villa –
The Sky Villa is located near Gomti Nagar, Lucknow, It consists of premium residences by Atmos properties. It offers up to 4 bhk on the topmost floors so you can enjoy the panoramic view of the city. Starting from 3900 sq ft, these villas are a definition of intense luxury. Some of the amenities that are included here are:
Private Swimming pool
sky garden terrace
18-foot ceilings
separate service quarters
immaculate fixtures and finishings
Children's play area
Clubhouse
Intercom
Power backup
Jogging track
Rainwater Harvesting
Landscaped gardens
Gym
Earth villa –
The Earth villa is an amazing courtyard collection located near Gomti Nagar, Lucknow by Atmos properties. this is a well planned classy duplex residence in the first and second floor. It consists of upto 4bhk. It has 24 floors. They start at 3900 sq ft.  It provides an eco-friendly environment. The amenities include-
Lifts
18-foot ceilings
large courtyard
separate service quarters
Car parking
Clubhouse
Play area for children
24/7 power backup
Fire fighting systems
Intercom
Gymnasium
This modern-day tower in villa concept aims at upgrading the old traditional concept of villas by building a new design strategy that reflects the new vision. The sky villa is similar to a housing concept which consists of the design of glamorous villas. This kind of villa projects are completed faster, the approval process is easier. This concept is not new, it has been borrowed from Western real estate markets which are getting its popularity in India. Many people are buying such luxurious apartments and villas in Lucknow to upgrade their lifestyle. You too can be one among them by booking your dream home here.